We at Thoroughbred Rifles love to hunt with our family and friends. We also are downright passionate about accurate rifles. After years of trying numerous factory rifles, some good, some bad but none great, we started having well known gunsmiths custom build rifles for ourselves and our son and daughters.
History of Thoroughbred Rifles
About the same time, several of our close friends and hunting buddies were doing the same thing. We were all in pursuit of the optimum hunting rifle. What we all discovered is that the rifle really needs to match two things extremely well – the hunter and the hunt! As we pursued different game in different environments, we found ourselves needing sometimes subtly, sometimes radically different rifles.
As we swapped our rifles with each other we also found that what fits my 6'4" pal doesn't really suit my 5'8" daughter and vice versa. The other major discovery was that having a custom rifle built didn't always really mean custom and certainly didn't guarantee accuracy. Then of course there was the inevitable question – "When will this rifle ever be finished?". So we decided to build a better company that builds better rifles.

About our Company
Thoroughbred Rifles LLC builds precision bolt action hunting rifles. Our focus is custom rifle manufacturing with short delivery times. So, what separates us from the numerous other fine custom rifle makers? First, we made the investment in research to develop what we believe is the finest custom bolt action repeater available.
We build exclusively on the Thoroughbred Action which we designed with the help of Jerry Stiller, one of the premier custom action makers as well as our own long-term experience in both the hunting field and tactical competition arena. Second, we use only the finest custom barrels, triggers, stocks and assembly parts available.
We expect our rifles to shoot HALF MOA or better with factory ammunition. We break in each rifle at the factory to ensure the maximum accuracy potential for each barrel and to determine the optimum pairing of factory ammunition for each rifle.
Third, we invest in inventorying all these components so that when you specify your own Thoroughbred Rifle, we can custom assemble, test and deliver it typically within TWELVE WEEKS. We occasionally pre-build rifles for demonstration but we prefer to custom build based on each clients unique needs and desires.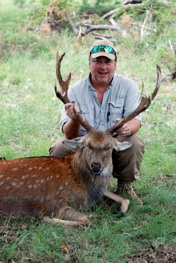 About Dale Troutt
Dale Troutt was born and raised in Memphis, TN.  Although he lived in Memphis, his father's family farm was only 80 miles up country from Memphis.  As a youngster, his dad and uncles would regularly take him hunting and these are some of the best memories of his life.  Given a Daisy Air Rifle at the age of four, his aunts and uncles would regularly challenge him to tests of marksmanship.  Most often while out fishing.  The usual bet was a quarter.  The typical challenge would be to hit a floating bottle top from the boat.  He quickly learned that if he aimed his shot just in front of the cap, it would pop out of the water which would garner the win.  This was the beginning of his love of precision shooting.
He received his Bachelor of Science in Electrical Engineering with a minor in Math and a curriculum option in Business from Christian Brothers College in Memphis graduating in 1977.  Dale held numerous positions in marketing, sales and executive management within the Computer Aided Engineering industry and retired in 2008 after the successful sale of the last startup company with which he was involved.  His wife Penni asked what he was going to do next.  He told her that he would probably do another technology startup to which she replied "Why don't you start the rifle company you've always dreamed of".  That was all it took.  A week later, Thoroughbred Rifles LLC was incorporated and paperwork was filed for a Federal Firearms Manufacturer License.
For More Information

Thoroughbred Rifles LLC builds custom precision bolt action hunting and tactical rifles. We made the investment in research to develop what we believe is the finest custom bolt action repeater available. For more information, visit our Contact Us page or you can follow us on Facebook, YouTube and Instagram.