Constructed of 416R stainless steel, each action body is CNC machined and then the interior features are wire EDM cut to achieve the highest-level dimensional precision. The loading port was designed by Jerry Stiller to enhance both accuracy and field usability.
Custom Action Bolts
The Thoroughbred port cut does not extend beyond the top of the action and there are no weight reducing flutes on the action. This helps maintain rigidity, which enhances accuracy. The port includes a front notch to assist with the ejection of a loaded round and allow the bullet to easily clear without damage to the bullet or potentially creating a jam situation. The port is also extended rearward for the same reason.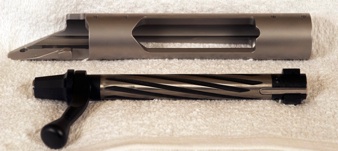 All Thoroughbred Actions feature an extended magazine cut to allow for longer magazine boxes or detachable magazine systems. This provides additional feeding reliability and accommodates those riflemen who prefer to hand load to longer than SAAMI specified overall length.

Each action features a side bolt release that is clocked slightly above the centerline to prevent interference with stock fit. All recoil lugs are pinned to the action to assure perfect coaxial alignment after barrel installation.
Each action body features four size 8-40 screw holes for mounting of scope bases. The Thoroughbred Hunter Scope Base features milspec Picatinny spacing, 10 MOA taper and a custom matching cutout above the loading port to assure easy access to the magazine.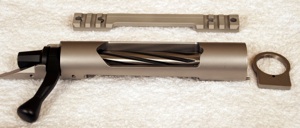 The bolt lugs on each action are hand lapped for a perfect bolt lug to lug raceway fit. This allows the bolt to stay perfectly in line with the cartridge during firing and promotes accuracy. Each bolt has an anti-bind raceway machined in to provide reliable cycling.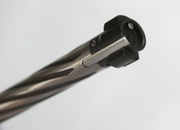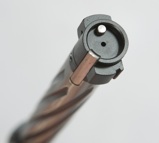 All bolt bodies feature spiral fluting which aides in reliable bolt function even in the presence of dirt and grit. Bolt to action clearance is held to four to six thousandths of an inch again adding to the overall accuracy potential. Inside every bolt is a lightweight fluted firing pin that is fully supported and center guided in the bolt head.
The firing pin is powered by an extra power spring. This provides a substantially quicker lock time again contributing to maximum accuracy. And finally, every bolt features an improved M16 style extractor capable of removing the most stubborn fired case.
For More Information

Thoroughbred Rifles LLC builds custom precision bolt action hunting and tactical rifles. We made the investment in research to develop what we believe is the finest custom bolt action repeater available. For more information, visit our Contact Us page or you can follow us on Facebook, YouTube and Instagram.